Aldi JD purchases new Altendorf Elmo IV
Customer Case Study
5th May 2015
A Huge thank you to everyone at Aldi JD for their purchase of the new Altendorf Elmo IV.
R&J Machinery are immensely proud of the skills of its engineers, and we pride ourselves on offering the best after sales service in the industry.
Aldi JD are a company that pride themselves on a very similar level of standard to ourselves, so we knew that nothing but the highest level of accuracy would do when installing this machine.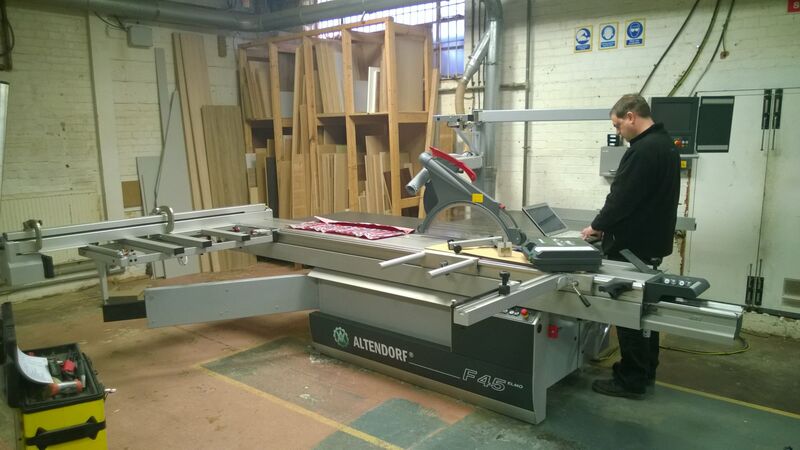 From the very start Aldi JD have been a fantastic company to deal with. Director Jan Dyrcz has an immense knowledge and understanding of high quality woodworking machinery. The company already have an Altendorf F45 so when choosing another saw Jan new exactly what he wanted.
When we chose the specification of this Altendorf Elmo IV Jan knew exactly what he required to make the lives of his highly skilled operators easier. The Altendorf Elmo IV was the obvious choice as Jan wanted quick accurate setting of the entire machine, and the Altendorf Elmo IV comes as standard with automatic setting of the cross cut and rip fence.
Then Jan decided to add extras such as a Duplex for easy angle cutting and compensation, a Laser cutting line to help them rip their solid timer, a Palin fence to help keep long thin lengths straight and accurate, and additional material supports such as the Steg and infeed support table.
With these additions this Altendorf Elmo IV will not only make day-to-day panel and timber cutting easier and more accurate, but will hugely decrease the speed at whitch the jobs completed.